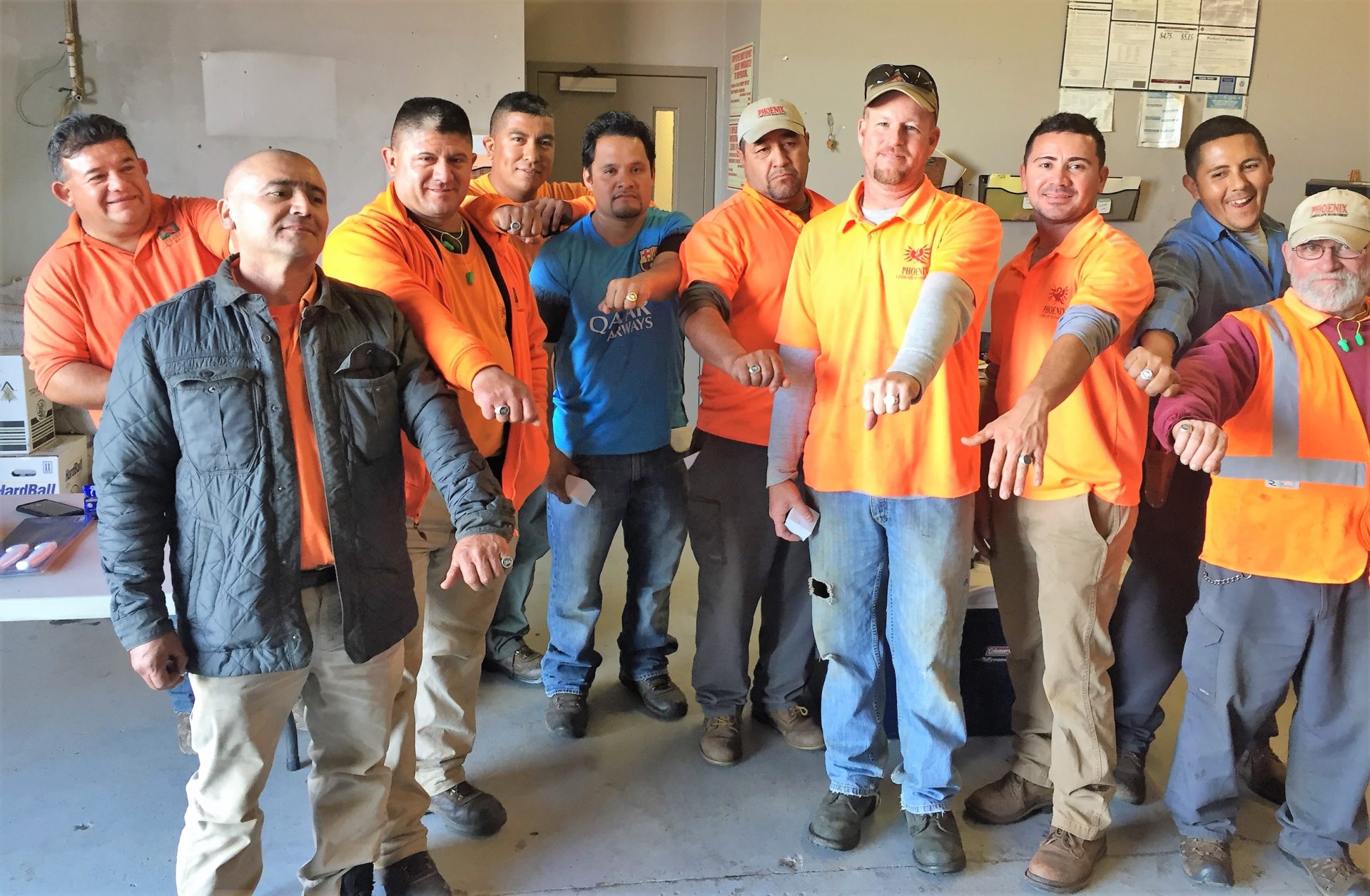 In 2016, there were 16 employees who celebrated 10 years or more working for Phoenix at our various locations. They were honored at our Christmas party when they received engraved, custom made sterling silver rings.
Jesús, who started in 2006, remembers that the manager took a chance on him when he was hired. "I never worked in landscaping before, but I was eager to learn and worked hard." Jesús worked his way up and is now the supervisor over one of our biggest accounts in Greenville. He still loves learning new things, adding that he just learned to operate a skid-steer. "Working for Phoenix has allowed me to provide for my family, plus I get to work outside making things grow."
Efrain, who has been with Phoenix for 15 years, describes the culture as quality over quantity. We are not a "mow and blow" company. We strive to give customers the best service possible. When asked how Phoenix impacted Efrain's life, he said that Phoenix helped him when he needed it the most and remains loyal because of it. Phoenix truly cares about the employees.
Chris, who has been here more than 11 years, said that his favorite thing about working for Phoenix is that his boss doesn't micro-manage him. Another big perk is the four-day work week. He stays on with Phoenix because he likes the people and the spirit of team-work.
Robert started out with Phoenix in 2002 and has been driving our ramp trucks safely for over 15 years without a speeding ticket or an accident. He says that he likes working here because his co-workers are easy to get along with, making it a great work environment.
Since Wilfrado began in 2002, he has been taking pride in his work. His co-worker was telling a favorite memory about Wilfrado. Their truck was getting ready to pull off a completed property when Wilfrado saw a large stick that they missed. Wilfrado jumped out of the truck and ran to pick it up. Wilfrado smiled and said, "That's because I wants the landscape to look as close to perfect as possible."
Our employees' consistent commitment to quality is one of the reasons that Phoenix has continued to grow. Satisfied customers lead to a top-notch reputation. Thank you to all sixteen employees, each who have been key to our success. We look forward to many more years together!