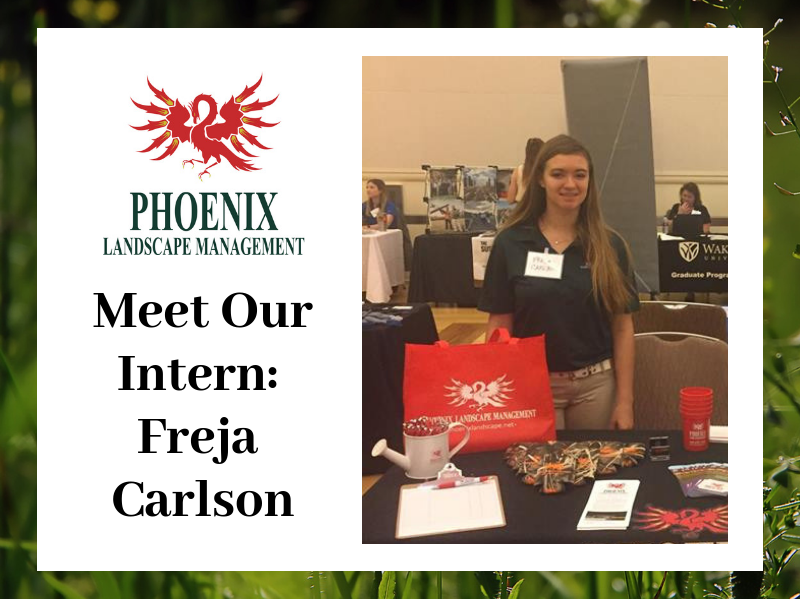 Phoenix intern, Freja Carlson, is currently a junior at North Carolina State University, double majoring in Communications and Horticulture with an emphasis on Landscape Design. She recently completed an internship with Phoenix which offered hands on experience geared towards her personal interests and abilities. One of those particular interests, landscape design, lead to her redesigning several landscapes for one of our Coastal customers that will be implemented this spring. Get to know Freja and her Phoenix internship in her blog post below and stay tuned to see the results from the custom-designed installs this spring!
This past summer, I interned with Phoenix Landscape at their Coastal Branch in Ocean Isle Beach. I had a great experience with the company. They made sure that I had the chance to see a variety of different aspects of what goes into professional landscape maintenance at the commercial level. While they followed the internship template, they also worked with me to tailor the internship to my interests. I am a Horticulture and Communication major at NC State University, and Phoenix helped me to gain hands-on design practice by allowing me to work with clients on refreshing landscapes that were already in places along with creating designs for current properties and new bids.
I had the opportunity to shadow the managers that were in charge of different areas to see everything that goes into running a commercial landscape company. Working with the managers, crews, and various Home Owners Associations, I utilized some of the communication skills I am learning in college. Even though landscape design is the focus of my horticulture degree, I believe it is valuable to know what is goes on in other parts of the process. As a designer, I will need to consider the impacts of my designs beyond the visual aspects. Some factors that come into play are: where irrigation needs to and can be laid, what other structures are already in place, and the number of hours on the job it would take for a crew to maintain the look of the design. I learned quite a bit about how long it takes for a property to be maintained by working with some of the crews as well.
I came to Phoenix with no prior commercial landscape maintenance experience, but they worked with me so I could learn how to properly use the different pieces of equipment. I enjoyed working on the properties with the crews so I could gain experience and confidence working with the tools. The days were often long and hot, but it was good practice. Since I am from the Piedmont Region of North Carolina, I also learned more about plants native to the Coastal Area I was not as familiar with while I was out on the job sites.
All of the different experiences I had this summer were valuable lessons I will apply when working on projects in college and when I am out in the workforce after I graduate. The classroom part of my education is important, but I believe there is no better way to learn than being out in the field because there are always some things that look good on paper, but do not translate well to the actual sites.  I look forward to seeing some of my designs implemented on some of the Coastal properties and continuing to work with Phoenix.
Freja Carlson
Phoenix Intern
Coastal Carolinas
Take a look at Freja's custom landscape designs in the gallery below: