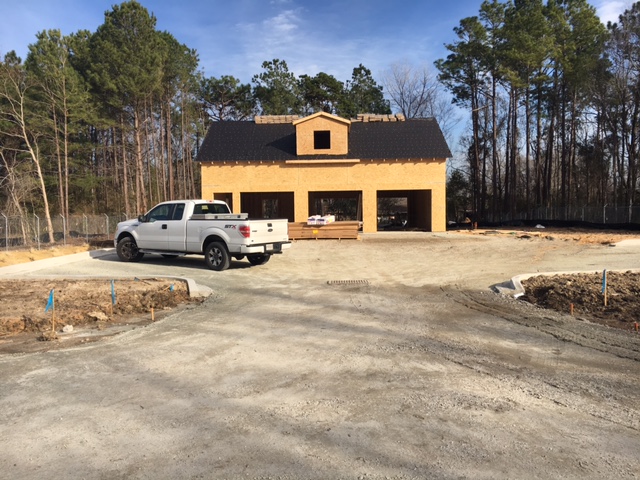 Phoenix Landscape Management is pleased to announce that we're expanding our branch in Charleston, SC! With the build of a brand new shop, we hope to better serve our clientele and further grow our presence in the coastal region of the Carolinas.
Since the opening of our Charleston branch in October 2014, it's always been the goal of our Vice President of Charleston, Matt Holmes, to have enough business to build a shop in the Goose Creek area.  When Matt initially began work in the region we served three properties with one truck and two crew members. Fast forward to four years later and our branch now serves 30 properties with nine trucks and seven different crews! With Matt's dedication and the hard work of our coastal team, we are excited to announce that we have reached Matt's goal and officially broken ground on our newest Charleston shop.
Our journey to build began in the beginning of November 2016, when we purchased land in Charleston. A year later, after the Army Corps of Engineers deemed the property wetland free and the City of Goose Creek approved our site plans, we were ready to begin the initial phase of the new shop build.
We began the build process by deciding on a 'stick built' wooden design for the shop because it is functional and could be easily built on site by a construction crew. Matt's experience working with Jarvis Construction, who had done a wonderful job on a previous project of his, was the obvious choice to do just that. Currently, we are nearing the final stages of the build, with finishing touches such as the addition of garage doors now taking place, and are estimated to finish the project by April.
As we move into the shop in May, we will have the added benefit of running all Charleston operations from one central location. This eliminates the need for our team to stop at the gas station, then nursery, every time we gear up to perform a service. The new streamlined process will, in turn, give us more time for our customers and allow us to continue providing the best service possible every day.
Charleston, we're here to serve! Contact us today to speak to one of our experienced landscape maintenance professionals about your commercial landscaping and maintenance needs.