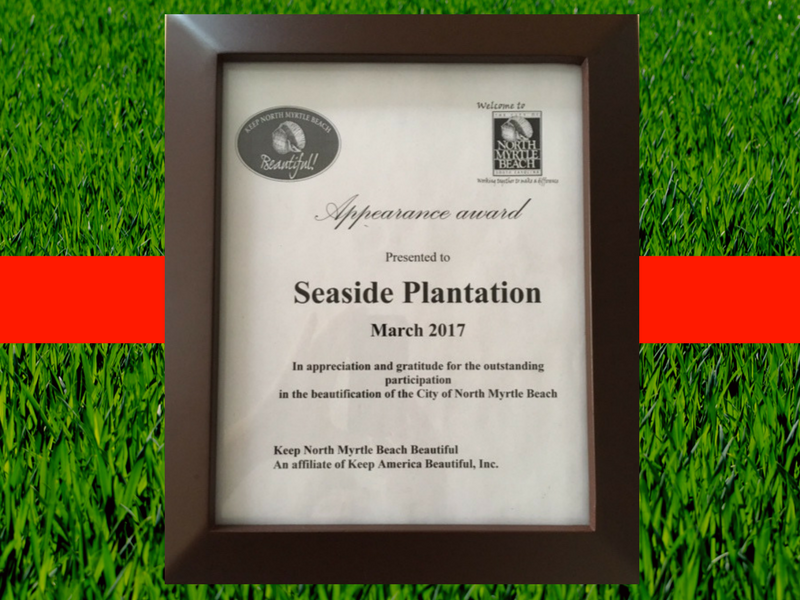 We're excited to announce that Phoenix Landscape Management's client, Seaside Plantation, recently received the Appearance Award from The City of North Myrtle Beach and The Keep North Myrtle Beach Beautiful (KNMBB) community for their consistently beautiful landscaping.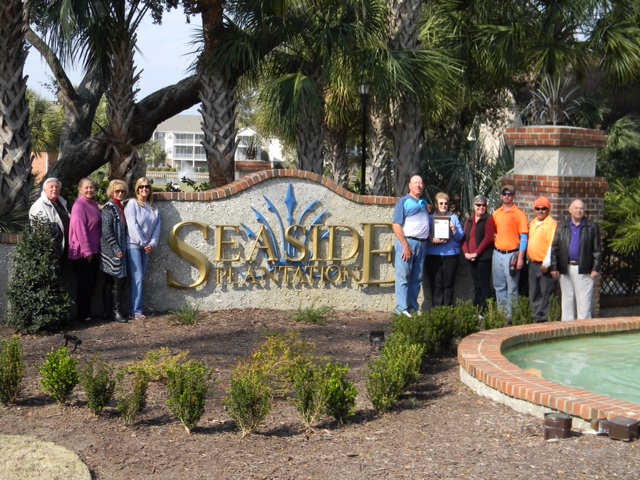 Located two short blocks from the Atlantic Ocean, Seaside Plantation is a distinguished gated North Myrtle Beach community that is notable for its green space, ornate fountains, and colorful beds. Recently, our Coastal Manager, Inman Love, and supervisor, Ivan Porfirio, and their crew worked alongside the Seaside Plantation's Landscape Committee's volunteers to lead community-wide landscape improvements. The property underwent complete renovations of all commons areas, entrances, and the Amenity Center grounds. Special attention was paid towards creating an inspired design for the main entrance which featured Japanese boxwoods, Oakleaf Hollies, Gardenias, Kaleidoscope Abelia, Miscanthus Grass and Emerald Green Arborvitae that acted as a colorful welcome to the prestigious community.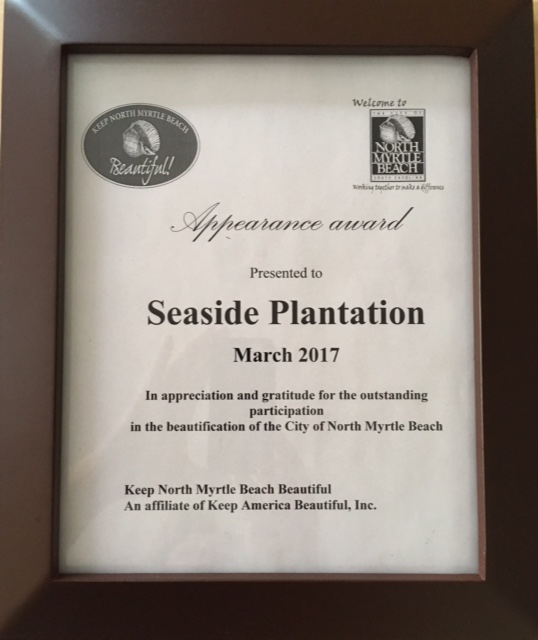 An affiliate of Keep America Beautiful, KNMBB is a community based program that works to improve and enhance through beautification, litter prevention, and recycling. The organization chooses a recipient of their Appearance Award monthly that they feel displays a landscape design with exceptional quality of workmanship and beauty. In recognition of the award, Seaside Plantation was presented with an award plaque and received a sign from the North Myrtle Beach Parks and Recreation department which was placed at the entrance of the community.
We are proud to know that our extensive design and installation services played a role in Seaside Plantation's award-winning landscaping.  It is our mission to do whatever it takes to provide creative design, ongoing excellence in service, and the overall ability to produce beautiful commercial landscapes. It is the commitment to maintaining high standards and dedication of the Phoenix team that drives our vision, and we want to recognize Inman Love and his crew for actively demonstrating these characteristics – thank you!
Interested in winning an award for your commercial property? Contact us for a quote today.